PG&E on Wednesday began power line inspections in the South Bay as the entire Bay Area region braces for wildfire season.
The utility is inspecting its large electrical transmission towers and power poles throughout Santa Clara County, making sure its power lines are secure and not at risk of coming down during high winds.
PG&E crews are conducting inspections on the ground and in the air via helicopter, starting Wednesday in the hills east of San Jose, Milpitas and surrounding border communities.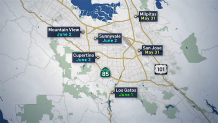 On Thursday, crews will cover Los Gatos and neighboring hills, and on Friday, they'll focus on northern Santa Clara County – Cupertino, Mountain View and Sunnyvale.
Meanwhile, in Contra Costa County, firefighting officials held their annual wildfire prevention town hall in Lafayette to encourage residents to be prepared for this year's wildfire season.
All local fire departments and Cal Fire continue to remind residents living on property with a lot of vegetation to make sure they maintain 100 feet of defensible space around the property.
All the preparation and reminders come after the release of this year's fire season outlook from Accuweather meteorologists, who predict that in California, 400,000 to 1 million acres will burn.