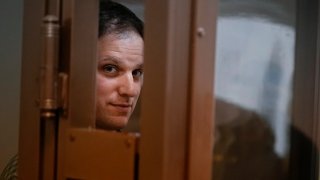 A Russian court on Tuesday extended the arrest of Wall Street Journal reporter Evan Gershkovich by three months, Russian news agencies reported.
Gershkovich, an American citizen, was ordered held until Aug. 30. He had been arrested in March on espionage charges on a reporting trip in Russia. He, his employer and the U.S. government have denied the charges.
Tuesday's court hearing wasn't announced in advance, and the entire case has been wrapped in secrecy.
Russian authorities haven't detailed what — if any — evidence they have gathered to support the espionage charges. Various legal proceedings have been closed to the media, and no details immediately emerged about whether Gershkovich or U.S. Embassy representatives attended Tuesday's hearing or what was said. Tass said the session was closed because the reporter was accused of possession of "secret materials."
Gershkovich is the first U.S. correspondent since the Cold War to be detained in Russia on spying charges, and his arrest rattled journalists in the country and drew outrage in the West.
The U.S. government has declared Gershkovich to be "wrongfully detained" and demanded his immediate release. He's being held in Moscow's Lefortovo prison. U.S. Embassy officials were allowed at least one prison visit to Gershkovich since his arrest in Yekaterinburg on March 29, but Russian authorities have denied permission for other visits.
Copyright AP - Associated Press