It's go-time for The Gals!
The United States women's national team announced their 23-player roster on Wednesday ahead of the World Cup slated to begin on July 20.
Head coach Vlatko Andonovski selected a mix of newcomers and veterans to represent the star-studded squad who will be making the trip to Australia and New Zealand. The team features six forwards, seven midfielders, seven defenders and three goalkeepers.
Here we take a look at five must-know facts about the USWNT's roster ahead of the competition:
Three players will be competing in fourth Women's World Cup
Megan Rapinoe, Alex Morgan and Kelley O'Hara will be competing in their fourth Women's World Cup, becoming the 10th, 11th and 12th American players to hit the milestone.
"Honestly, it felt like I was getting called for the first time to go to a World Cup," O'Hara said "TODAY." "I'm so excited. This is my fourth one, but when I got the news I honestly broke out in tears I was so excited."
Morgan and Rapinoe were the tournament's co-leading scorers when the U.S. defended its title in France four years ago.
Fourteen players are making their Women's World Cup debut
Welcome to the 'ship!
Fourteen players will be making their Women's World Cup debuts: GK Casey Murphy, GK Aubrey Kingsbury, D Alana Cook, D Emily Fox, D Naomi Girma, D Sofia Huerta, M Savannah DeMelo, M Kristie Mewis, M Ashley Sanchez, M Andi Sullivan, F Trinity Rodman, F Sophia Smith, F Alyssa Thompson and F Lynn Williams.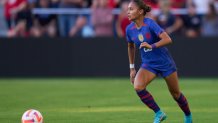 Between injuries and wanting the develop young players, Andonovski says this year is about growth.
"We are expecting the level of play at this World Cup to be the best it's ever been, and all the teams must keep up with that growth," the head coach said.
Savannah DeMelo becomes first uncapped player to make Women's World Cup roster since 2003
Shocker alert.
DeMelo was on the 23-woman squad and marked the first time an uncapped player made a USWNT roster for the Women's World Cup since Shannon Boxx in 2003.
DeMelo has been to training camps with the USWNT but has never appeared in a game. The 25-year-old out of Racing Louisville FC has six goals since May 1 in NWSL regular season and Challenge Cup games for 8 total goals this year and two assists.
"Every player has a different journey to get to this point," Andonovski said about the selection.
The youngest player on the roster is 18, while the oldest is 37
The USWNT has a nice distribution of age across its roster.
The average age is 28.5 with forward Alyssa Thompson the youngest at 18 and Rapinoe the oldest at 37.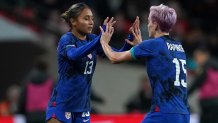 The collection of players is about the same as the 2015 and 2019 winning rosters.
"We have a really good mix of veterans and younger players," Andonovski said. "I know as a group they are extremely motivated to make our country proud at the World Cup."
The USWNT is seeking its third straight Women's World Cup title
This would be a record-breaking feat.
The U.S. is looking to become the first country, male or female, to win three consecutive World Cup titles.
The four-time champions won their last two titles in 2019 and 2015 -- in France and Canada, respectively.
The U.S.'s first two titles came in 1991 after defeating Norway in the final and in 1999, when The Gals hosted the World Cup and edged China in the final.
Germany falls second in nations with the most titles with two.
The U.S. begins its title defense on July 21, when it meets Women's World Cup newcomer Vietnam in Auckland, New Zealand (9 p.m. ET).