Jeff Ranieri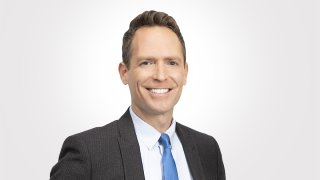 Emmy award-winning Jeff Ranieri is NBC Bay Area's Chief Meteorologist and appears on NBC Bay Area Monday through Friday at 5, 6 and 11 p.m. He currently holds the American Meteorological Seal of Approval.
Forecasting the complex microclimates of the Bay Area is one of Jeff's main passions as temperatures in a 35-mile radius can range from 50° to 100°.
He's also become well-known for his personality-driven live remote forecasts from events and locations all over the Bay Area. A few notables…Golfing on Pebble Beach & sliding on the ice with Kristi Yamaguchi. He also managed to turn sports into weather while covering the San Francisco Giants 2010 quest for the World Series Championship.
Jeff also enjoys getting involved in the community. Currently, he's working with "Fly" Fresh Lifelines For Youth, Rebuilding Together Silicon Valley, SF Project Open Hand, San Francisco SPCA "Clear The Shelters Event", Safeway Holiday Food Drive & Silicon Valley's CAMP / AREAA Annual Holiday Charity Fundraiser.
In addition to serving as the Chief Meteorologist and occasional live feature reporting, Jeff has also served as the "Olympic Zone" host during the London, Sochi, Rio & PyeongChang games. Taking fans to some of the top stories and highlights during the half-hour shows.
After joining NBC Bay Area, Jeff has also continued contributing to NBC Network coverage which included the tsunami warning for the entire West Coast, heading back East to track Hurricane Irene and most recently reporting on the 6.0 Napa Earthquake.
Before joining NBC Bay Area, Jeff was based in New York City with NBC News, where he worked as a correspondent for NBC News & MSNBC and served as the Weekend Today Show Meteorologist and Early Today. He has covered a wide range of major weather events from the studio and from the field, including Hurricane Katrina in Biloxi, Mississippi and historic Midwest flooding. Jeff also traveled to Torino and Beijing to cover the 2006 and 2008 Olympic Games.
Prior to joining NBC Network in 2004, Jeff was a Meteorologist at KCRA-TV in Sacramento and has also worked in Oregon and Florida as a Meteorologist, Reporter and Anchor. Connect with Jeff on Facebook & Twitter.