It was a windy Friday afternoon in Oakland, and as the A's warmed up to play their first home game in more than a week, only 6,423 fans showed up to watch.
You could blame the Warriors' NBA playoff game happening that night for the low attendance, but that wouldn't tell the whole story. The A's have drawn the smallest crowds of any Major League Baseball team this season, averaging just over 10,000 people in a stadium built to hold more than five times that many.
Still, despite its unremarkable attendance, this game was remarkable in a different way: in the days since the A's last played at home, news had broken that the team had signed a binding agreement to buy land near the Las Vegas Strip, where owner John Fisher wants to build a brand new, retractable-roof ballpark with help from Nevada taxpayers.
In the Oakland Coliseum's right field bleachers, where die hard fans wave flags and beat drums throughout home games, it wasn't business as usual. Instead of showing up with drums, those fans showed up with green T-shirts bearing the word "SELL."
"We want John Fisher to sell the team to a local businessperson who can afford to get (a new ballpark built) and keep the team in Oakland," said Jorge Leon, a lifelong fan wearing his "SELL" T-shirt with a green and gold A's scarf.
Fellow lifelong fan Anson Casanares helped organize the T-shirt campaign.
"They mentioned Vegas, and it was like, okay, we have to do something," Casanares said. "And this is it, right here."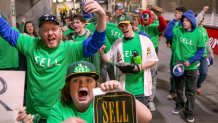 Chanting, "Sell the team!" and "Stay in Oakland!" the fans occupying the right field bleachers poured out into the aisles of the near-empty Coliseum, carrying signs, ringing cowbells, and getting the sparse crowd riled up as they marched through the seating sections surrounding the infield.
"The A's are very important to the Bay Area, to the East Bay," Casanares said. "I don't understand how we can let this go."
But those fans — even the ones too young to remember the days when the A's played for sold-out crowds — say they've had a difference of opinion with Fisher for a long time.
"He sells away all our best players," complained 14-year-old Nolan Walsh.
"We were a postseason team, and now we might be the worst team in baseball," lamented 13-year-old Jack DeAngelo.
"It's like that movie, 'Major League,' where they really want the team to fail," observed a woman holding up a handmade, sequin-studded Oakland A's blanket.
Still, despite a dismal record and the lowest payroll in Major League Baseball, the A's mean something to the city where they've played ball since 1968.
"When you see an A's hat walking down the street, you don't think of who pitched last night — you think of Oakland," said Alan Wilk, one of the dozens of fans who protested outside the Coliseum before the game.
"Oakland has character — it's got personality," said Justin Matoska, a longtime fan who added he won't go see the A's play in Las Vegas if they move there.
"The people here — they're real fans, they're die hards," said Andy Belsky, who was visiting from Boston on a tour of all 30 Major League ballparks. If the team were to move to Las Vegas, he asked, "What's gonna happen to all these fans that are here?"
"Heartbroken," a lifelong fan named Diego said in answer to that question. "One hundred percent heartbroken. ... First it was the Warriors, then the Raiders, then the A's."
"We're losing everything in Oakland, we can't lose the A's," another man chimed in from the next section over.
Fans like Casanares say they're resolved to make their voices heard, and hope Fisher listens. Leon would like to see the team stay in Oakland too, though he admits the odds don't look good.
"It's horrible, but I think there's resiliency here in the city of Oakland," Leon said. "And I think we'll be all right."