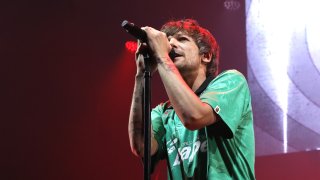 A powerful hail storm crashed down on concertgoers at a Louis Tomlinson show in Colorado on Wednesday night, injuring nearly 100 people including at least seven who were taken to local hospitals.
Fans of the English singer and songwriter were forced to run for cover as the massive hail pellets rained down on the Red Rocks Park and Amphitheatre, an open-air venue around ten miles west of Denver. The storm forced the gig to be called off.
"It was straight out of a horror movie," on Twitter user wrote, sharing video of a deluge slamming down an outdoor staircase covered in what appeared to be hail pellets. The footage could not immediately be verified by NBC News.
The West Metro Fire Rescue said at least seven people were transported to area hospitals with non-life-threatening injuries in connection with the incident. 
"A total of 80 to 90 people treated on scene," the fire department said. "Injuries include cuts and broken bones."
Read the full story at NBCNews.com