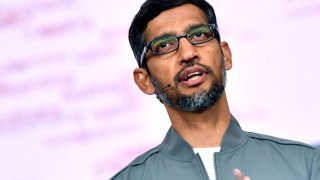 Last week, Google updated its hybrid three-day-a-week office policy to include badge tracking.
The company is struggling to deal with the downsizing of real estate projects and other cost cuts while also forcing people back to the office.
Google is far from alone among its tech peers in struggling to find the right path with hybrid work.
Google's mixed messaging when it comes to its return-to-office plans has been a subject of consternation across the company since the waning days of the Covid-19 pandemic. Now employees are finding further sources of frustration.
Last week, Google updated its hybrid three-day-a-week office policy to include badge tracking and noted attendance will be included in performance reviews. Additionally, employees who already received approval for remote work may now have that status reevaluated.
Based on CNBC's discussions with some employees and posts to an internal site called Memegen, Google faces growing concern among staffers that management is overreaching in its oversight of physical attendance. Staffers say they're being treated like schoolchildren. There's also increased uncertainty about what the future holds for people who moved to different cities and states after they were cleared to work from remote locations.
"If you cannot attend the office today, your parents should submit an absence request," reads one top-rated meme posted by an employee and viewed by CNBC. Attached was a photoshopped image of human resources head Fiona Cicconi in front of a school chalkboard.
Another highly rated meme said, "check my work, not my badge."
Ryan Lamont, a Google spokesperson, said in an email that the badge data collected is "aggregated" for company leaders.
"Now that we've fully transitioned to the hybrid work week, company leaders can see reports showing how their teams are adopting the hybrid work model," the statement said, adding Google doesn't "share individual Googler badge data" in its reports.
An internal document indicates how group leaders will learn who hasn't been in the office frequently enough.
"Managers of non-remote Googlers who have been consistently absent from the office will be cc'ed on emails to these Googlers (subject to local requirements), so they can support Googlers in either ramping back to the office or exploring other flexibility options," the document says.
On Friday, YouTube held its own all-hands meeting with employees about the office policy update. At the event, executives presented the plans virtually, a paradox that didn't go unnoticed.
Afterward, a popular meme showed an image of "The Big Bang Theory" TV show character Leonard Hofstadter saying, "What are you looking at? You've never seen a hypocrite before?"
Discontent surrounding the return-to-office policies represents the latest challenge for Google as the company tries to get people back into its many expansive offices and campuses across the country. Prior to the pandemic, Google was known for its vibrant campus life, replete with massage parlors, yoga classes, video games and free gourmet meals.
But life changed, as did priorities, during the pandemic, when offices were closed and employees were forced to work from home. Staffers moved to different cities and got used to more flexibility and family time while taking advantage of Google's flexible remote work options.
Tech companies flourished during that stretch. Google's revenue growth surged and its stock price rose to record levels. Much of that was attributable to a wide array of cloud-based collaboration tools that could be used from anywhere.
"Thanks to amazing tools like Google Workspace, we can be highly productive from home — particularly when it comes to asynchronous work that requires deep focus," Cicconi wrote in a memo last week announcing updates to the hybrid policy.
In April of last year, Google began bringing most employees back to physical offices three days a week, following several fits and starts in its return-to-office plans that were complicated by regular spikes in Covid infection rates.
However, with attendance remaining sparse and Google looking to cut costs, the company started instituting changes this year that haven't always been applauded. For example, CNBC reported in February that Google's cloud unit told employees it would transition to a desk-sharing workspace in its five largest locations as it downsized real estate.
Now, according to correspondence viewed by CNBC, the company is in the process of providing lockers in each location that uses the desk-sharing model so employees can store personal items overnight.
Chris Schmidt, a software engineer at Google and a member of the Alphabet Workers Union-CWA, questioned how the company can work so hard to get people back in the office when desk space is limited.
"New York City workers do not even have enough desks and conference rooms for workers to use comfortably," Schmidt said in an email to CNBC.
Google is far from alone among its tech peers in struggling to find the right path with hybrid work. Last month, thousands of Amazon employees walked off the job, according to organizers, calling on the company to reconsider its three-day-a-week office mandate. An Amazon spokesperson estimates that about 300 people participated in the walkout.
Salesforce is reportedly offering to pay $10 a day to the local charity of choice for every employee that comes back to the office. Meta said recently that employees will need to work from a physical office at least three days a week beginning in September.
Lamont said Google's three-day policy has been in place for over a year and is now being updated.
"It's going well, and we want to see Googlers connecting and collaborating in-person, so we're limiting remote work to exception only," Lamont said.
WATCH: War on remote work
Copyright CNBCs - CNBC