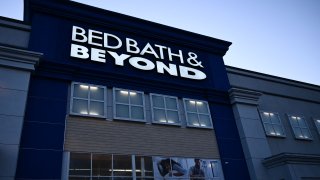 Bed Bath & Beyond's stores will disappear after Overstock.com agreed to buy the retailer's intellectual property and digital assets for $21.5 million during a bankruptcy-run auction.
The deal does not include keeping the chain's brick-and-mortar presence alive.
A separate auction for the Buy Buy Baby chain is slated for next week.
Bed Bath & Beyond will live on in name only after Overstock.com won an auction for the failed home goods retailer's intellectual property and digital assets, according to court records filed early Thursday. 
The e-commerce discounter, which was selected as the stalking horse bidder for Bed Bath's bankruptcy-run auction, will buy the chain's brand name, business data and digital assets for $21.5 million, the records say. 
The deal does not include keeping Bed Bath's stores open. The sale price is the same as Overstock's stalking horse bid, which set the floor price at the auction, indicating Bed Bath didn't receive higher or more attractive bids. 
JOWA Brands was selected as a backup bidder solely for Bed Bath's Wamsutta brand, a private sheets and towels label the retailer owns. 
Ten Twenty Four, a software company that helps owners maximize vacation rental revenues and does business as Beyond Pricing, was chosen as the backup bidder for the retailer's Beyond.com asset. If the deal with Overstock falls through, Ten Twenty Four could win rights to the domain name. 
The sale still needs to be approved at a hearing on Tuesday. 
In a rare move, Bed Bath chose to run a separate sale process for its Buy Buy Baby chain, considered the crown jewel of its assets. 
The separate process allows the company to find a bidder willing to keep the banner's stores open, without the headache of taking on Bed Bath's assets. 
Buy Buy Baby assets garnered interest from buyers even before Bed Bath filed for bankruptcy in April. 
The chain, which sells baby clothes, furniture and other goods, has since attracted interested buyers during the sale process, including from prospective bidders interested in keeping its physical footprint alive, CNBC previously reported.
The auction for Buy Buy Baby's assets is slated to take place on Wednesday.
Copyright CNBCs - CNBC