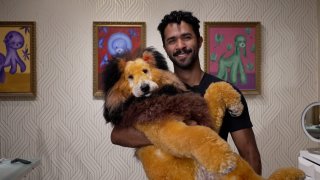 Gabriel Feitosa has a knack for turning animals into art.
At his grooming salon in San Diego, anything is possible: Bernedoodles become giraffes and poodles become Pokémon.
Feitosa, a native of São Paulo, Brazil, opened Gabriel Feitosa Grooming Salon in 2018, capitalizing on a $1.3 billion global pet grooming market.
Feitosa and his 10 employees groom about 20 dogs a day, and at least 500 per month, the 31-year-old tells CNBC Make It. But many of the animals he works with don't just get a haircut — they get a full makeover.
As a dog grooming artist, Feitosa combines traditional grooming techniques with unique designs, and uses vegan, pet-friendly dyes. His larger-than-life creations have amassed a cult social media following, with over 2 million followers on TikTok and 400,000 on Instagram.
The intricate designs can take between 3 and 5 hours to complete, including food and bathroom breaks for the pup, and cost anywhere from $500 to $1,200. In a typical week, Feitosa works between 40 and 50 hours.
The salon brought in about $1.2 million last year, according to tax documents reviewed by CNBC Make It. Feitosa earned another $125,500 in 2022 for brand deals and sponsorships.
"This salon is a dream for me," says Feitosa. "I came to the U.S. with two scissors and a clipper, and now I have a place where I feel like an artist and show the world that this career is possible."
Finding career inspiration while running an errand
Feitosa's dog grooming career began when he was 12.
Feitosa would take his sister's dog, Icaro, to the local groomer in São Paulo whenever he needed a bath and a haircut.
Little did he know these trips to the groomer would jumpstart a fulfilling career of his own. Feitosa was fascinated watching the groomer bathe, cut and spruce up the dogs.
"I thought, 'Wow, this lady gets to play with dogs all day and make money?'" he says. "I just got obsessed."
Feitosa was eager to learn more, so he asked the groomer to teach him how to wash dogs. Soon, he started working at the shop after school.
He left high school right before graduating to pursue dog grooming as his full-time career, working at the salon and teaching dog grooming at a vocational school based on his real-world learnings. Pet grooming does not require specialized education or certification, and Feitosa says he did not complete a formal education program.
From artist to entrepreneur
Shortly after he turned 23, Feitosa was offered a grooming internship with a dog breeder in Sacramento, Calif. and moved to the U.S.
He spent the next three years working with groomers and dog shows around the U.S. as part of the internship before settling in San Diego with his then-husband in 2017.
In San Diego, Feitosa got a part-time job as a dog groomer for a small salon with a pet boutique and bakery in the front. He took on a second part-time gig assisting a poodle breeder to make ends meet.
Several months later, Feitosa's boss approached him with a deal: She would sell him her grooming business, which included all of the equipment in the shop, as well as her client list, for about $40,000. He would also have to pay the $1,100 monthly rent for the space.
Feitosa took the offer and grew his grooming business in the back of the building while his former boss ran the pet boutique and bakery in the front.
Feitosa says it was challenging to balance his artistic pursuits with the responsibilities of being a business owner.
But having the freedom to experiment with designs trumped the headaches of running the shop, like renovating the space and managing employees.
"Sometimes, you need to take a leap of faith not knowing if it's going to work out," he says. "But I was excited to create a safe space where people — and their dogs — could feel good, and I could do what I love."
The salon shut down for two months at the start of the Covid-19 pandemic, but was deemed an essential business and allowed to re-open in May 2020.
That same month, Feitosa's former boss retired, and he took over the lease for the entire ground floor of the building.
He received a small business loan of about $60,000 from the government, which helped cover the costs of renovating the space and hiring additional help.
'It brings so much joy to people'
In 2021, Feitosa was cast on "Pooch Perfect," a competition TV show for dog grooming artists on ABC, where he was a finalist.
That opportunity helped him grow his social media following and business. Feitosa says people have flown in from other states just to bring their dogs into his salon.
He's transformed shelter pets waiting to be adopted, family pets and therapy dogs that work in hospitals.
"The designs might seem fancy and unnecessary, but the amount of smiles you put on people's faces by walking by with a dog in one of these designs is an unforgettable experience," he says. "It brings so much joy to people."
Looking ahead, Feitosa hopes to open a second grooming salon in Los Angeles and host his own dog grooming TV show. He thinks his 12-year-old self would be proud of where he ended up.
"I've learned that success is a consequence of following your passion and your purpose," says Feitosa. "If grooming dogs is the most random thing, but that's what you love doing and you do it to the fullest and hardest you can … why can't you achieve wealth and success?"
Want to be smarter and more successful with your money, work & life? Sign up for our new newsletter!
Check out:
31-year-old mom started her CBD business from home in Hawaii—3 years later, it brings in $100,000 annually
This 33-year-old brought in $2 million making PowerPoints: Here's her best career advice
Florists, caterers...Tiktokers? Content creators are bringing in up to $150/hour filming weddings for social media
Copyright CNBCs - CNBC